Wednesday, April 17th, 2013
Another essential tool (at least for me) used in many parts of the shoemaking process is the stirrup. The stirrup is basically a long, belt-like strap with a buckle in it to allow it to loosen and tighten. The idea is to act as a second pair of hands to hold something in place while you work on it. Let's place the stirrup in historical context first, and then explain how I use it.
The earliest pictorial evidence of stirrup use that I know of is from the donor stained glass windows dated to 1205-1225 in the Chartres Cathedral of Notre-Dame. Both Marc Carlson and Larsdatter have several images of these and other images of shoemakers with (and without!) stirrups.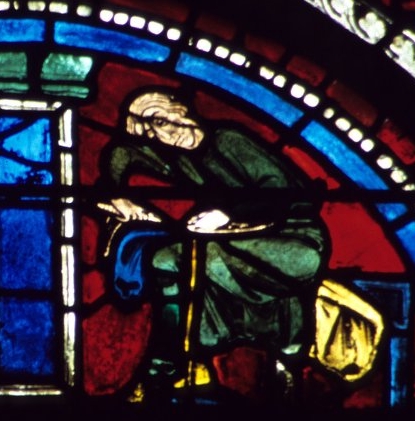 Many of the illustrations show the shoemaker strapping a shoe (or something – sometimes, we cannot tell) to the top of their knee or thigh, with the strap passing underneath the foot to provide tension.
(more…)