May 23rd, 2013
As a treat for being attentive little readers and staying loyal even though I've missed a couple of weeks, I reward you with a blog post from France! A group of several of us 18th century costuming enthusiasts got together and let an 18th century chateau for two weeks, located in Pys, in the south of France, about 40 minutes from Toulouse. This is a magnificent place, and although the pictures speak loudly for themselves, a few additional words would not be untoward.
This is the second brainchild of Kendra Van Cleave and Trystan Bass – the first was a costuming event held at Blo Norton Hall in Norfolk, England back in 2010 (read Kendra or Trystan's posts on the topic). We had such a delightful time dressing up in a 16th century manor house, cooking period food, singing songs, dancing, and the like that we had to reprise our visit, but this time, in an 18th century chateau in France! And, just so you know that I'm not making this all up, here is a picture of my shoes in front of the chateau itself (look very closely for the two small black bumps in the center next to the glass of champagne).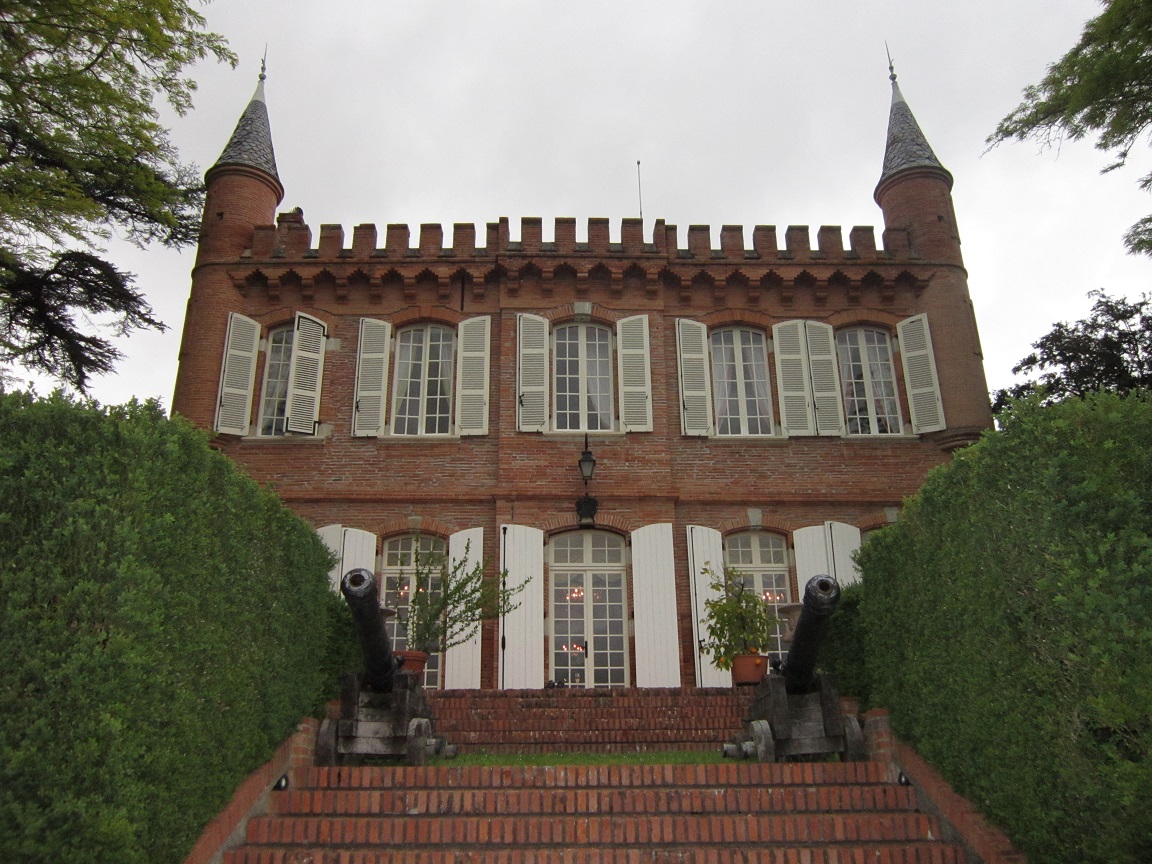 What does all of this have to do with Paste Buckles, you might ask? I'm so glad you asked!

Some of you may be familiar with Augusta Auctions, and the high quality historic pieces that they are able to procure. Recently, an auction was held in New York City on April 17 (you can access the entire catalog listing from the Augusta Auctions website, as well as for their past auctions). Several lots contained antique 18th Century silver buckles and paste buckles in incredibly good condition. The thought then struck me – what could be better than spending two weeks in an 18th century chateau, dressed in 18th century clothes? Wearing actual 18th century bling!! Through the marvel that is my mother (who lives in New York City, where I was born), I came away with several lots, all late 18th. The first lot was a set of larger silver and steel buckles, probably late 1770s or 1780s, based on the large size of the buckles (buckles fell out of use in the 1790s or so, and were often replaced with ribbons). These were in very good shape, and the bottom pair actually has silver sheeting which was hammered onto the steel underneath.
The second lot was a beauty of a lot – three pairs of buckles, all paste buckles. Paste is a high lead glass which can be easily cut and shaped (more so than diamonds) and when backed with foil, produce a brilliant shimmering and sparkling effect when light reflects on them. Paste buckles were incredibly common in the 18th century, but as the styles changed towards the end of the century, they fell out of fashion rather quickly – as they say, "One day you're in, and the next, you're out!" Candice Hern wrote up a small article on paste buckles, which is good for a little bit of background reading (along with accompanying sources). These absolutely stunning buckles ended up in my greedy little hands just before we left for France.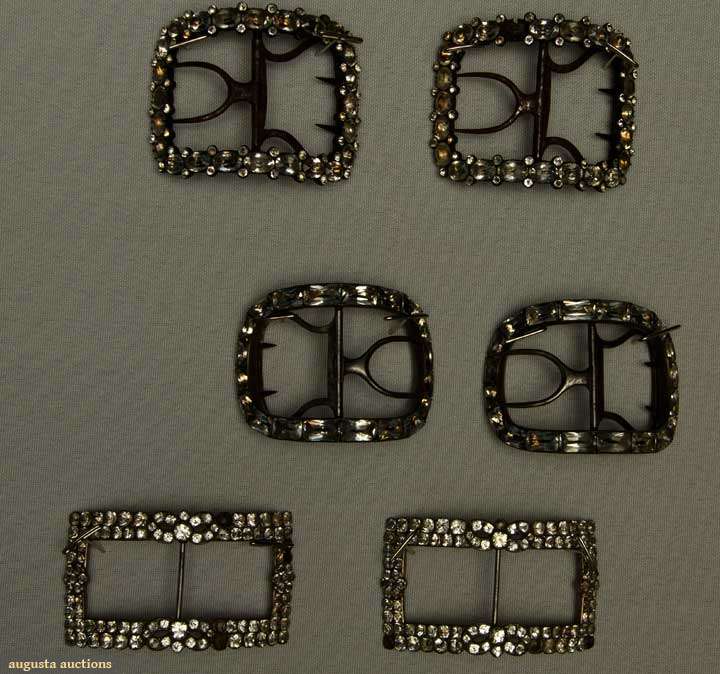 Additionally, see a closeup of one of each of the buckles – the rectangular buckle is in excellent shape, but with a bit of surface rust on the prongs, but the oval buckles are pristine. The rectangular buckles without prongs are missing a few stones, but those should be easily replaced. Absolutely gorgeous!
Lastly, for context, a shot with the buckles actually on some period reproduction shoes. The shoes on the far left are the Martha shoe from the makers at Fugawee, the middle pair are the Kensington shoe from American Duchess, and the third are a pair of my own work, which you can read about in Lesson 5. When placed on actual shoes, I think that the buckles truly show off their grandeur.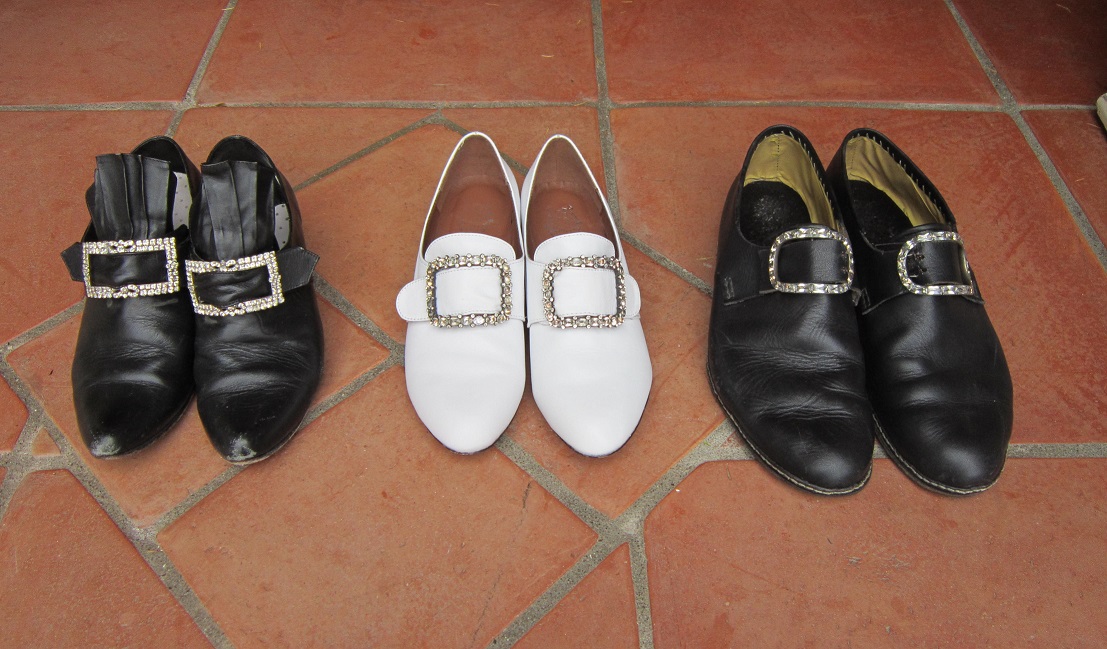 And now, a bit of commentary on the buckles themselves. One thing that I found particularly noteworthy is the fine work used in the steel of the prongs. The prongs, on both chapes of the buckles, are almost needle-sharp, even after over 200 years, and are very sturdy. It might be illuminating to compare them to reproductions that are currently available, and show the differences. In the picture below, the top right buckle is the Pierced Buckle from Fugawee, and the top left buckle is the Fleur from American Duchess.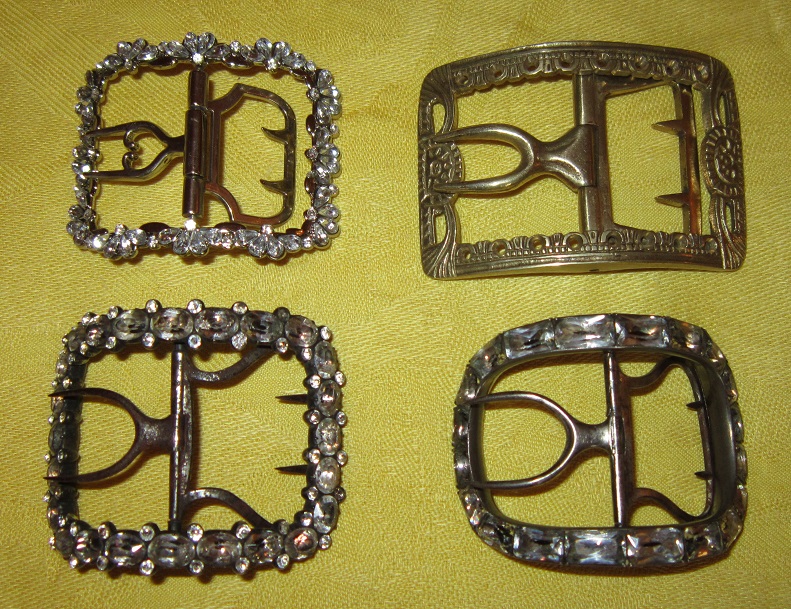 In general, the antique buckles are finer and made with a higher degree of craftsmanship than the period reproductions – this is not meant as a knock on reproduction wares at all, but simply an objective comparison, as the availability and relatively low price of reproduction buckles is very attractive. The steel on the antique pieces is much finer and solid than the reproductions – likely, they would have been wrought by a smith rather than cast which allows for finer details, as casting is often more difficult with finer and thinner pieces. The top strap prongs also have a narrower neck and smaller attachment point to the center of the buckle. As mentioned, the prongs for both antique buckles are needle sharp, and do not cause as much of a "bulge" compared to the reproduction ones (as shown here). Moreover, although I have not sampled an exhaustive number of buckles (only about 40 or so), all of the buckles I have looked at seem to have chapes which are the same size and would ideally accommodate straps of the same size. The Fleur buckles do seem to have a chape which is smaller than would be ideal, but perhaps the original piece that the reproduction is based upon may differ from the other numbers of buckles that I've examined.
Obviously, wearing antique buckles is something to be undertaken carefully, as the stones can sometimes loosen and fall out. Availability, of course, is also an issue. However, I cannot adequately describe how gleeful it is to be walking around the grounds of a beautiful chateau, dressed in linens and silks, and wearing authentic pieces from the period! Well, perhaps a picture will describe it, courtesy of Kendra Van Cleave: