Friday, April 5th, 2013
You've clearly noticed that I tend to focus primarily on leather shoes, even though there is ample evidence for shoes of fabric (typically velvet) – just poke through Queen Elizabeth's Wardrobe Unlock'd. The wardrobe lists all manner of fabric shoes: shoes of cloth of silver, shoes of velvet, and pantofles of velvet. These could have lace applied, trim, embroidery. However, aside from the children's shoes in Moda a Firenze, I've yet to come across any other examples of extant 16th century fabric shoes…until now! Thanks to the great Tracy J., you can feast your eyes on these amazing examples from the Rijksmuseum, with the full link here.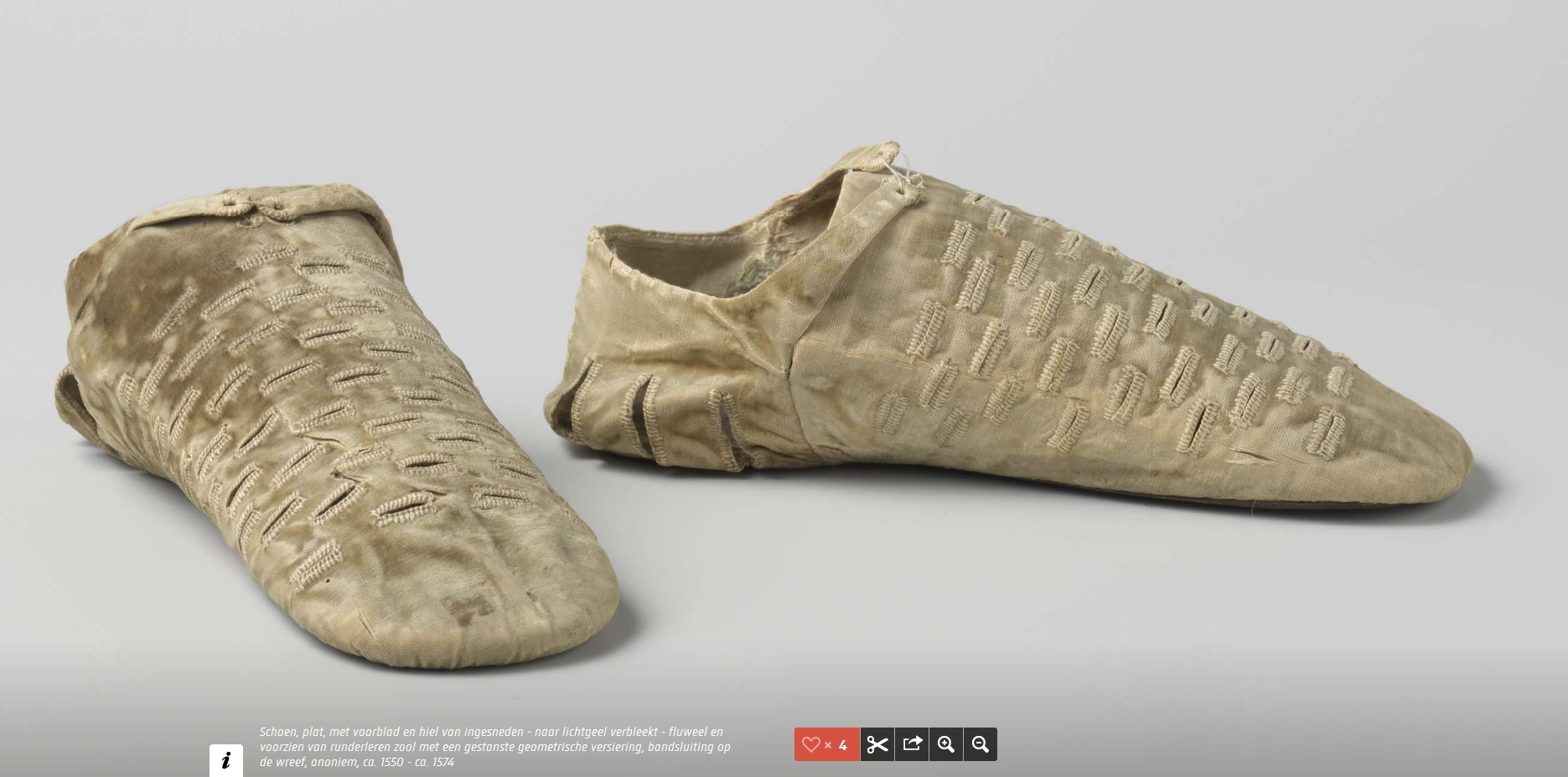 The translation is, per Google Translate: "Shoe, flat, with Cover and heel cut – to pale yellow – velvet and with bovine leather sole with embossed geometric decoration, strap closure on the instep, anonymous, ca 1550 – ca 1574.
It's a little hard to see, but if you zoom in at the actual museum website, it does look like the shoe is lined with taffeta. There also might be some linen interlining, as there is some kind of tabby material behind cuts in the shoe on the left, but that could also just be supporting material to ensure that the shoe keeps its shape. Notice the great detail on the buttonhole stitching around the slits and the eyelet holes.
My own supposition is that the straps should actually go behind the vamp, rather than over, as they look a little bit wonky and don't seem to meet the eyelets on the vamp exactly. A lightweight shoe, probably of turn-shoe construction, this likely would have been an indoor shoe, suitable for walking about the palazzo, dancing, or having dinner. I will simply have to make a pair – the construction will probably be much more straight forward than for a leather shoe, as the upper can be simply sewn together, but the hard part is all of the buttonholes (of which I love the look, but hate the work!).