June 5th, 2017
I was recently honored to have been invited to Sweden, to teach shoemaking at a yearly event called Double Wars. I cannot even begin to tell you how wonderful and fantastic an experience this was, meeting so many new people, enjoying the time in the wilderness with absolutely marvelous weather, and getting to share the time with people who were so interested in shoemaking. And, as it turns out, the Fêtes Galantes 2017 in Versailles was being held the Monday directly after the event ended! I had no choice but to make plans to attend the gala as well (you'll see more in the next post). I could not answer for you how delightful the trip was in ten thousand words, let alone one thousand, but the thousand will have to do: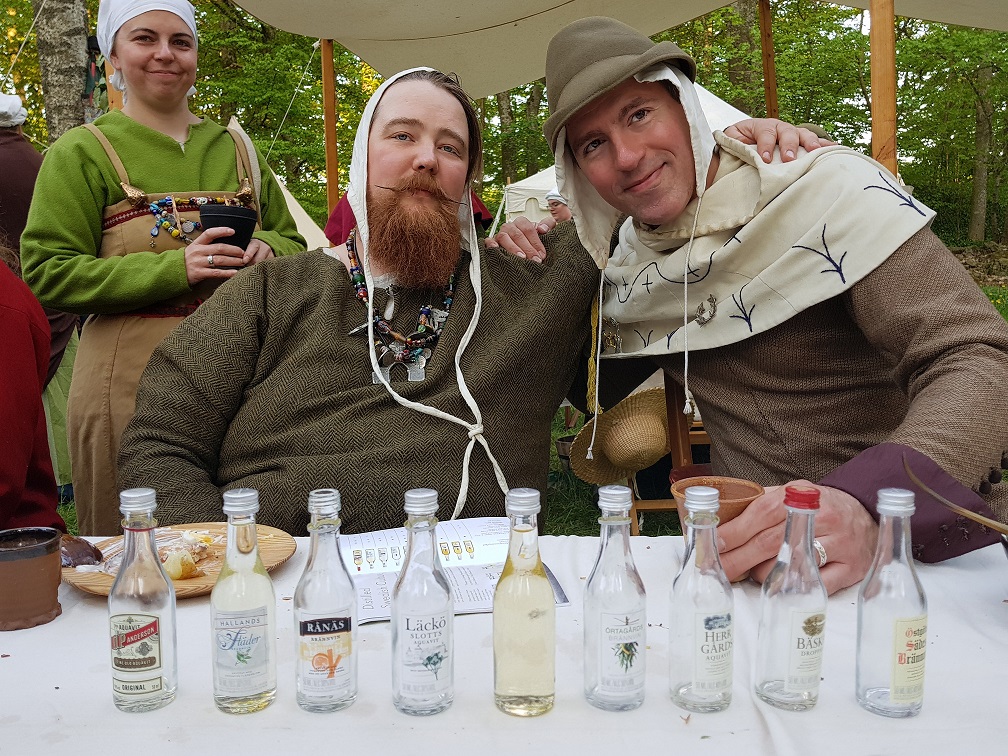 At Double Wars (hereafter referred as DW), the primary point of the war was to decide upon which side the knäckebröd should be buttered, the hole-y side or the flat side. As a staunch holey-side-butterer, I was dismayed that the flat siders won the war (again), but there will be other years! Now, onto shoemaking discussions and details.

Although the war was ten days long, I knew that I had five or so full days available to me for a workshop, and I also had limited tools. My initial idea was to do a class in four days for six people, thinking that it would be absolutely plenty. Remember, I had hosted several workshops previously, some with my good friend Matt. After giving it some thought, I believe I could handle ten students. To make this happen, I did a great deal of prep-work in advance:
– Getting measurements from each student and confirming type of shoe, color, and other details
– Adjusting lasts for each student
– Patterning out and cutting leather for uppers, soles, stiffeners, welts, and bindings
– Dyeing uppers, bindings, and welts (where needed)
– Making stitching cords for inseaming (2 each, so 10×2 = 20 cords)
– Packing tools, stirrups, extra bristles, cord, etc. for 10 students
I allowed the students to select from a variety of shoes from the 9th century through the end of the 16th century. I had figured that the students who had selected turn shoes would be done by day 3, and that those working on 16th century shoes would be done by day 4. About half the class working on turn shoes did finish by day 4, but the welted took through day five and in some cases, through day six. Even with all of this time, there were a couple of students that still did not finish. In many ways, this was very helpful as an exercise for me, knowing what the capabilities of a group of students were and the limitations. Let me share my learning with you:
– 16th century double-soled shoes are not a wise plan for first-time shoemakers
– Use the easiest binding methods possible, so as to keep the work moving
– Encourage those that may have issues sitting down for a long amount of time or have difficulties with their hands or back that they may want to reconsider the class
But, in general, there were very positive reviews, and I think that everyone came away with an appreciation of the process of shoemaking, and eventually, all will finish their shoes. The nicest part is that all of the shoes fit, which means the cocktail I had before the last tailoring didn't seem to hurt all that much! And now, some fun shots of DW. Here is Constance working on her 14th century turn shoe.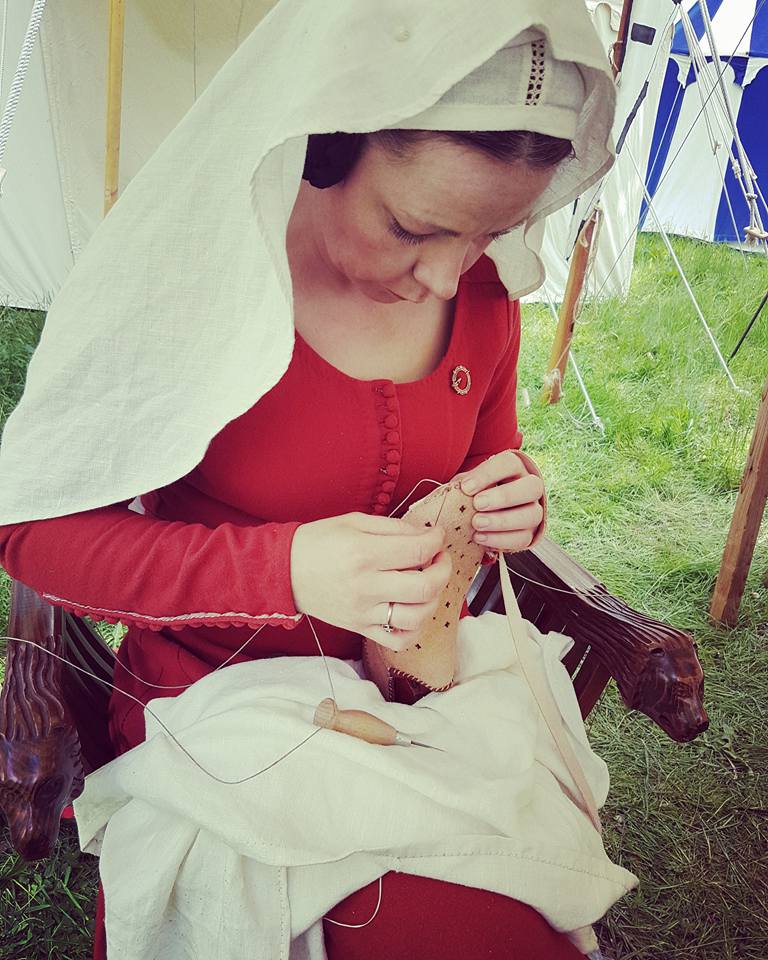 Jovi and Silwa modeling their newly finished shoes.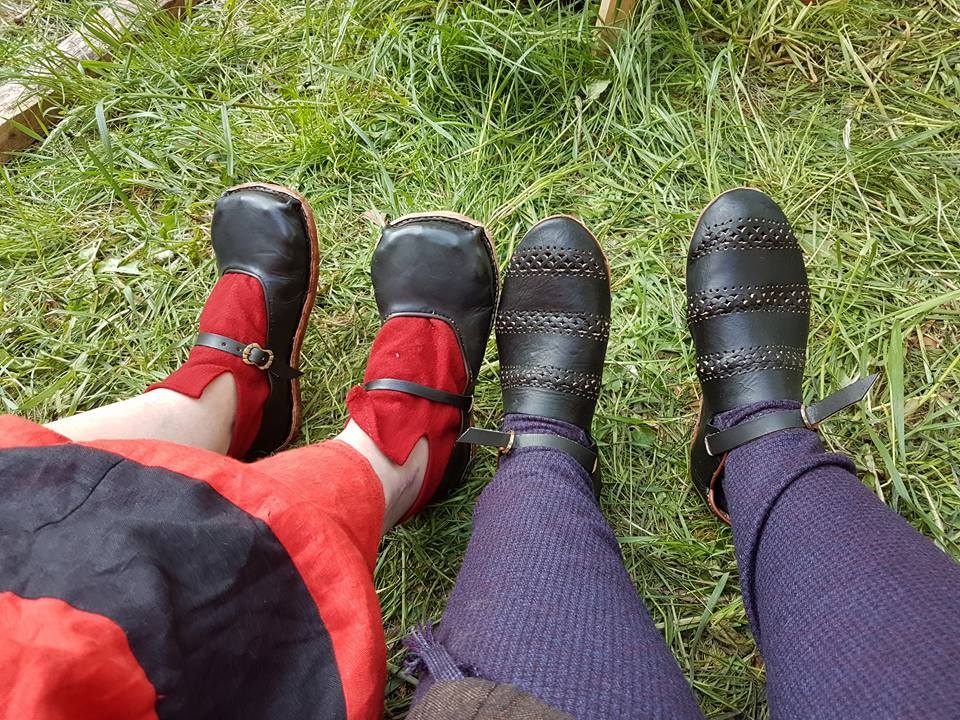 Erik working hard on his double-soled 16th century shoes.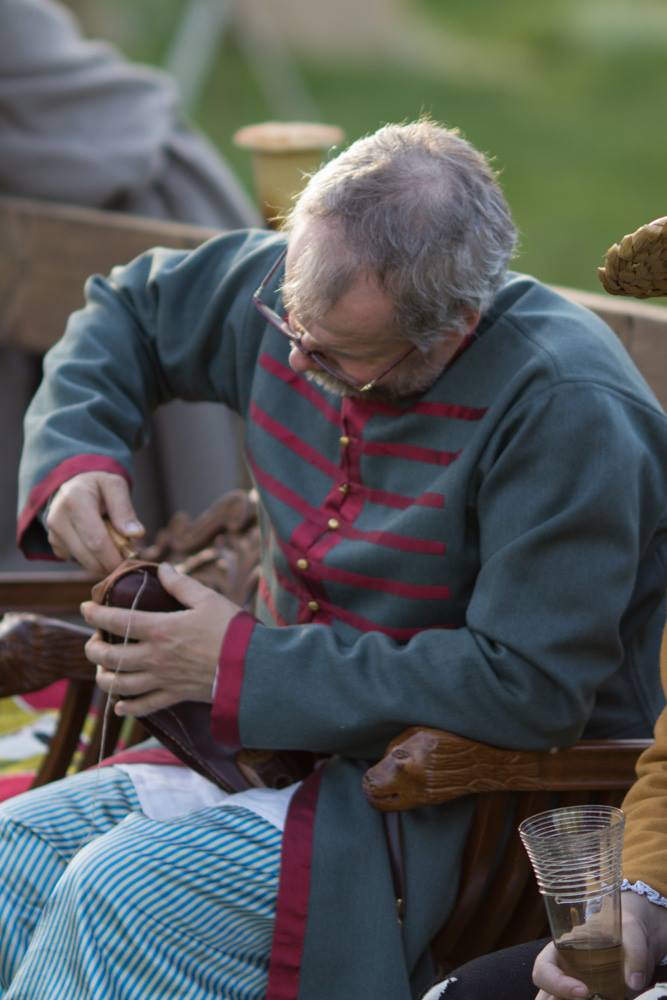 Marit's loevly little 14th century shoes!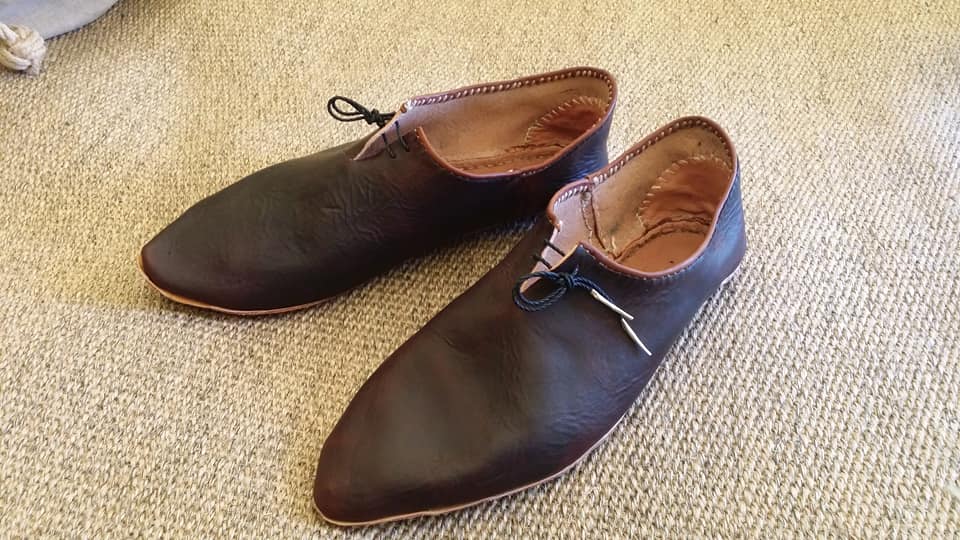 Efridis and her "monster" cowmouths.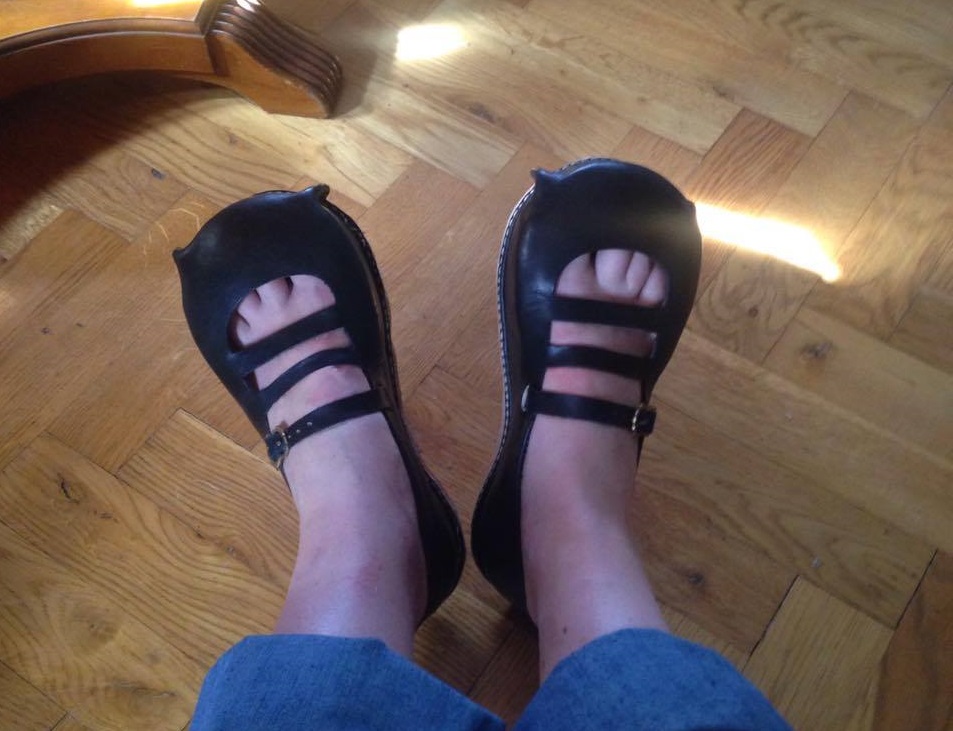 All in all, it was a fantastic experience, and I highly recommend Double Wars. I'm hoping to return next year, perhaps just teaching some technique classes rather than a full suite of classes, but by that time, I may have amnesia from this experience!
Tags: doublewars, shoes